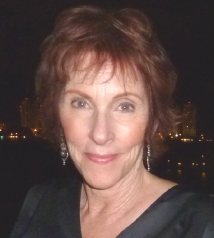 Johanina Wikoff
Growing up in the 1960's and 70's in the US Midwest, I was influenced by the social, political, cultural and spiritual changes around me. When my first marriage ended, I worked as a journalist, in advertising and was involved in community projects while raising my son. Then as a requirement for a teacher -training program, I took a class at Second City Theatre. Improvisation opened me up to a direct and embodied experience of myself unlike any I had known.  And I wanted more of this authentic feeling in my life.
Eager to experience personal growth and human potential opportunities, I moved to San Francisco and studied Yoga, meditation, dance with Anna Halprin, and Continuum Movement with Emily Conrad.  I was living in rural communities with like-minded people to ease the challenge of single parenting.  We were questioning the values we'd grown up with and experimenting with new ways to live, raise children and relate to one another.  Sometimes I felt like a snake shedding outgrown skin. Often I felt vulnerable and exposed as I began living life without the old filters.
Even as a child I had a nagging spiritual hunger;  though I didn't recognize it as such yet.  Instead I sought to fill the emptiness I felt with relationships and work.  When I recognized that I couldn't find what I was looking for outside of myself, I turned to spiritual teachers. I read Krishnamurti and did retreats with Tantric Buddhist Rimpoche, Chogyam Trungpa.  The controversial Indian Mystic Osho helped me see the difference between love and relationship.  I trained in Rebirthing Therapy with Leonard Orr and Sondra Ray.  But it was Reichian Therapy with Al Bauman and Sylvia Tropp Goodman that helped me ground myself in self- love and acceptance. I began to experience inner peace, ease, joy and fulfillment.. Sylvia mentored me while I began to work as a Reichan Therapist.  My studies of movement therapy and body oriented psychology became the basis for my Masters studies in Somatic Psychology.
From 1985-89 I lived in Hawaii where I met and worked as a staff therapist for Charles and Caroline Muir's  Tantra and the Art of Conscious Loving Workshops.
Relational Tantra is a western interpretation of a Yogic spiritual tradition.  I was inspired to bring a spiritual perspective to relational psychology.  This led me to focus on the couples and sexuality approach of David Schnarch, study the Imago couples therapy of Harville Hendrix, and participate in a psycho-spiritual group with John Welwood for my doctoral dissertation on Relationship as a Spiritual Practice. I was weaving embodying practices, relational psychology modern Tantra in my work.  I did quite a bit of speaking, teaching, presenting and writing during this period.  In 1990 I wrote the Complete Idiot's Guide to the Kama Sutra.
 During the 40 years of my career, there have been periods when I have taken time for personal inner work while maintaining my private practice. I feel that doing my own work deepens my compassion and ability to hold space for my clients. In 1998 I entered a psycho-spiritual group with Hameed Ali and Karen Johnson of the Diamond Heart psycho-spiritual mystery school and later spent time in a group led by Faisal Masqauddam.  These teachings continue to guide and support me personally and professionally; as do the teachings of the Enneagram. They bring the transcendent aspects of spiritual wisdom and the functional aspects of psychological work to enrich people's lives and relationships.
You can schedule a private consultation by contacting me at [email protected] or call 415-686-8618.
Schedule your free 30 minute consultation